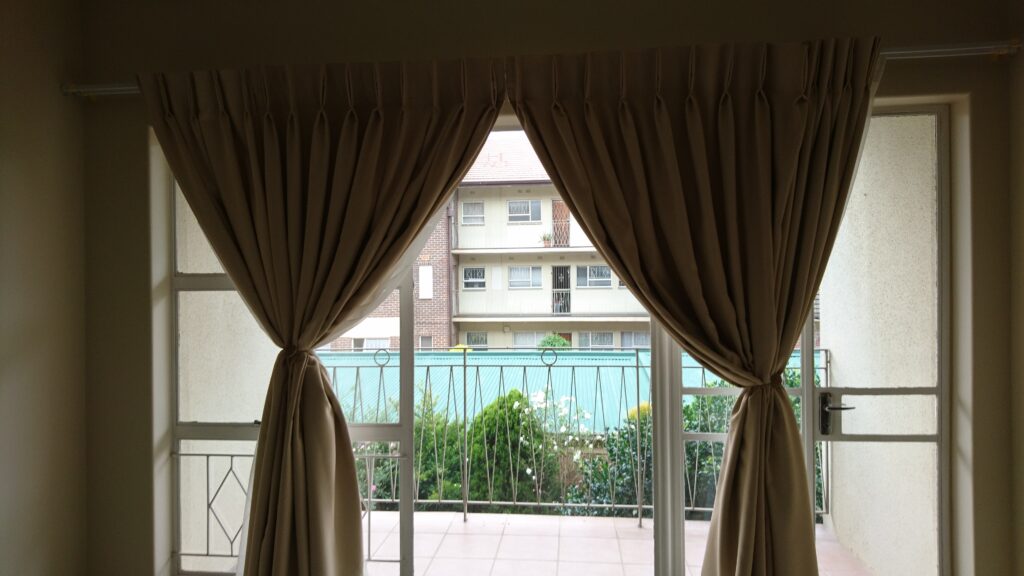 R1800 (available end of April)
Excellent quality woven sun bloc material curtains for a 1-bedroom apartment in Tugela Terrace. Very effective in blocking sun as well as providing some sound proofing.
Curtains come with attractive pinch pleats on top sticking neatly over the pelmet and are all standard length of 1.8 m.
Purchased in 2022.
Included is spare beige material if you want to add drops as curtain company underestimated 60cm drops in lounge.  2 m X 2.8 m
Attractive magnetic clasps provided with curtains.
Drop Dimensions:
Lounge: 1 drop of 1.7 X 1.8 m
Main window: 2 drops of 1.04 X 1.8 m each plus 2 drops of .60 X 1.8 m
Bedroom: 2 drops of 1.04 X 1.8m and 2 drops of .75 X 1.8m.
Spare beige material 2 X 2.8 m